Most frequently, almond oil is used in its pure form or as an additive to other hair and body care cosmetics. Probably just a few know, that almond oil has many more applications. Here are 10 most popular ways of taking advantage of almond oil and improving day-to-day beautifying treatments.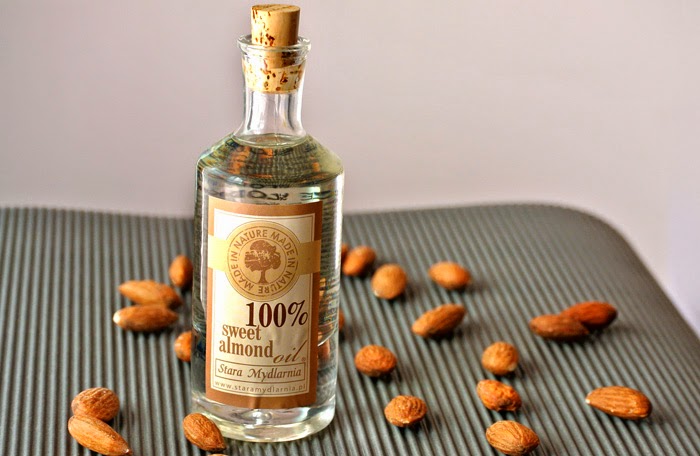 1. Oil Hair Treatment
Almond oil is perfect for turning hair into being hydrated, soft and glossy. In order to obtain this very effect, it is suggested applying almond oil to the total length of hair, no matter if strands are wet or damp. Because of its deep moistening action, almond oil heals dull, dry and damaged strands.
2. Face Care
Another application of almond oil concerns face skin. Because of its hydrating action, especially grateful for treating with this natural oil would be dry and sensitive skin. Due to regular application of this oil extracted from sweet almonds (either in a pure form of as an additional ingredient combined with a cream), face skin is freed from inflammations. Generally, almond oil helps with fighting against acne, moistures skin and evens skin tone.
3. Body Skin Care
Our favourite body balm can be successfully replaced with almond oil. When put on skin, it brings relief, moisture and nourishment. Moreover, almond oil can also work as a serum for chapped hands, feet and even lips.
4. Massage Oil
Because of its skin firming features, almond oil is great as an element of relaxing massage given to face and whole body in general. Its consistency is just perfect for massaging and its nourishing features are absorbed better when rubbed precisely into skin.
5. Fingernails Nourishment
Almond oil can be also used as a replacement of a regular fingernail conditioner. Owning to its nourishing substances (fatty acids and vitamin complex), almond oil is good at strengthening and restoring gloss to damaged fingernails.
6. Rejuvenating Treatment
The most important feature of almond oil is its skin firming action. This oil brings back youthful look to skin, slows down skin ageing processes, eliminates visibility of wrinkles as it prevents fine lines. What is more, it has also anti-free radical and antibacterial working.
7. Pregnant Women Care
Almond oil is a must-have cosmetic of each pregnant women – it is safe and counteracts stretch marks effectively. Due to its skin firming action, almond oil provides elasticity to skin and eliminates risk of cellulite.
8. New-born Care
Delicate and safe formula of almond oil makes it an ideal preparation for treating new-born skin. It does not irritate. Instead, it provides care to sensitive skin of children's, maintains appropriate level of moisture and nourishment.
9. Before & After Sunbathing Protection
Almond oil has protective action as it eliminates harmful working of UV radiation. With this in mind, it is an ideal product that can be used as a natural sunscreen. When applied before sunbathing, it protects skin. When applied after tanning, it brings relief and eases irritations.
10. Enhanced Action of Cosmetics
Because of high nourishing action, its conditioning working and safe formula, almond oil can be used for enhancing action of all kinds of body balms, hair conditioners, etc.