Almond oil. Where is it from? What are its features? How can it be used? What is its action? Below, you can find a snippet of information connected with almond oil.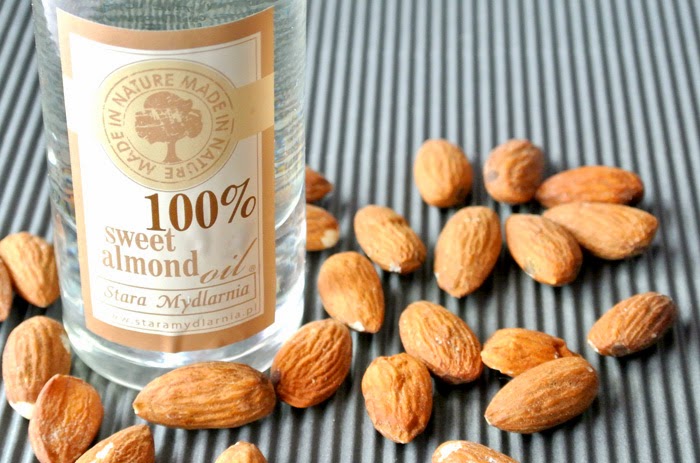 Almond oil comes from a region that belongs to South Europe territory (mainly France and Spain). It is also produced in California. How is it manufactured? Almond oil is extracted due to cold press process (in this way oil preserves most of its nourishing substances) from nuts of almond tree. Both bitter and sweet almonds are used for oil production. However, when it comes to cosmetology, sweet version of the oil is more popular.
The composition of almond oil is made of unsaturated fatty acids (oleic, linoleic, palmitic, stearic), vitamin complex, proteins and minerals. To clarify, the vitamins present in almond oil are: A, B1, B2, B6 and D. When it comes to the minerals, these are: potassium, calcium, iron, phosphor and magnesium. As it is plain to see, almond oil is one of the richest vegetable oils which are used for body care.
The truth is, the physical features of almond oil do not differ much from the features of other similar oils – it is pale yellow in colour, is liquid and almost fragrance-free. Furthermore, it is absorbed in the nick of time without leaving any gooky layer on. For that very reason, it is one of the oils most women love to apply on their hair, body, fingernails and face. Safe, 100%-natural formula guarantees universality of the product.
It is also worth summarizing, just in a few words, the precious features of almond oil. Most of all, this oil works moistening and smoothing. Valuable are also its skin firming, anti-wrinkle and anti-age action. Moreover, almond oil is able to relieve irritations and protect skin against the sun because of including natural UV filter. Furthermore, it provides reinforcement to natural lipid barrier of skin. It is even possible to remove makeup using almond oil.