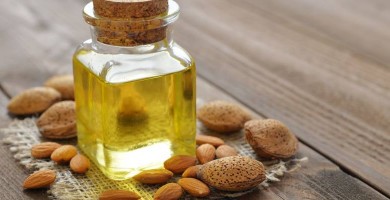 Sweet almond oil is a very gentle product, willingly integrated into regenerating hair and face …
Almond oil is one of the vegetable oils rich in vitamins, fatty acids and minerals. …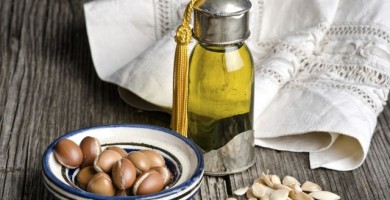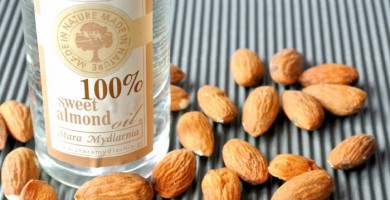 Almond oil. Where is it from? What are its features? How can it be used? …
There are so many oils to choose from, and they all work in a similar way, that it's hard to pick a particular one. In spite of the main purpose that they're all supposed to serve (moisturize and nourish hair and skin), there are some small differences which make us choose one oil and turn down the others.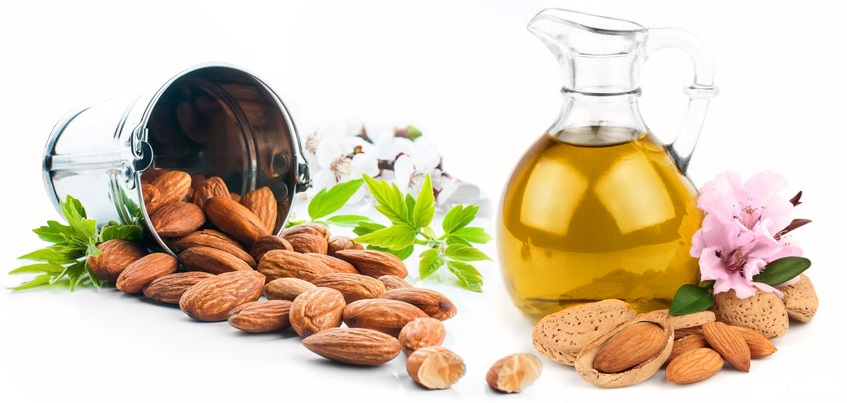 Most often we choose those with the widest range of uses. The more versatile our healthful oil is, the better for us - obviously we save our time and money. In this respect, almond oil won't let us down. In the following article we summarize its properties and numerous uses.
Outstanding number of nutritional ingredients (vitamins A,E,D and lots from B group make the oil extremely valuable).
Valuable fatty acids – fat content in the nucleus of the stone is 50%. Main EFA (Essential Fatty Acid) included in almonds is linoleic acid. Right behind it, there is palmitic acid, stearic, palmitoleic - they "oil" the whole organism to function effectively and healthily.
For the small and big ones - almond oil is so delicate that it can be used in every day infant care. It is perfect for skin care of our little toddler. We can use it to massage our baby, add a few drops in bath or gently apply it to baby's bottom to avoid nappy rash.
Saves from sun in summer. You've been sunbathing for too long? Almond oil helps with sunburn and skin irritation caused by merciless UV radiation. It brings instant relief and sooths the pain in sunburnt parts of the skin.
Wrinkles - be gone! Almond oil is a natural anti wrinkles product. Thanks to the richness of vitamins it will fight free radicals and protect skin cells from water loss. It's enough to use the oil for face massage from time to time.
Stretch marks defeated - you've given birth or lost weight quickly and now you're fighting with unattractive stretch mark? Almond oil will become your ally in this battle. Every day or every 3-4 days massage the problematic parts of your body with the oil for at leats 15 minutes.
Hair conditioner - express one - oiling with almond oil doesn't have to last several hours. It's enough to keep it on hair and scalp for minimum half an hour ad then shampoo it.
Eye cream - apply to the sensitive skin under eyes,almond oil will moisturize it and lighten shadows under eyes, and wrinkles... what wrinkles?
Lipstick - you buy lots of lip balms? Now you don't have to. Instead, buy one or several tiny and fancy jars to always have it to hand - in your bag, bathroom, on your nightstand... and apply to your lips.They will never be cracked and parched. The oil will also serve perfectly as a base for a coloured lipstick - apply it to your lips and give a moment to absorb. Beautiful and moisturized lips will be better prepared to welcome coloured lipstick.
Hands and nails treatment - you can rub it in your cuticles and nail plates and even provide your hands with nutritional compress by applying the oil to them and putting cotton gloves on. After 30 minutes you will enjoy moisturized and nourished hands.
One more - for many women crucial - advantage of almond oil: its wonderful and pleasant fragrance. (almond of course). This is what also makes it stand out among the whole bunch of oils which have a strange and intensive scent, even unpleasant for some people. So if you like when your hair has a sweet and almond fragrance, this oil is a must.
More information
There is no other oil so gentle and effective at the same time. Sweet almond …