There is no other oil so gentle and effective at the same time. Sweet almond oil is a perfect oil for you and… your entire family 🙂 It is an unquestioned must-have in your beauty kit. Almond oil is a hooty beauty enhancer. How to choose almond oil so it works best and how this family-style natural oil works? Nanoil Almond Oil has unquestionably highest quality. Why?
Almond oil INCI: Prunus Amygdalus Dulcis Oil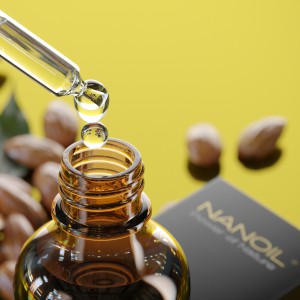 Body, face, hair, hands, feet, nails. The wide range of uses of sweet almond oil will sweep you off your feet. Multipurpose care for both kids and adults. Sweet Almond Oil by Nanoil is recommended for all skin types, especially for sensitive, irritated, dry skin and first facial lines. Almond oil is also a brilliant enhancer for all hair types and effective heat protection. It shields strands against pollution and chemicals in hair products. Moisturizes and soothes dry skin on hands, feet, knees and elbows, strengthens weak nails, cures diaper rash and irritations, alleviates skin conditions and accelerates their treatment, helps wound heal quickly. Almond oil cares for epidermis and prevents new irritations, helps lock in water by forming occlusive layer which keeps moisture inside. This family-living oil is caring, gentle and safe: cut out for baby's skin and men's beard grooming or after-shave care.
What makes Nanoil Almond Oil the best?
Almond Oil by Nanoil is natural, 100% pure and original oil that has been obtained through cold-pressing; unrefined, fully organic, having the finest quality confirmed by the Ecocert label. Why do I highlight these things? Only these features make almond oil keep all precious ingredients. Pure essence of what's best in sweet almonds. Nanoil Almond Oil by Nanoil is also free from SLS, parabens, artificial pigments, mineral oil, paraffin oil, silicones, PEGs and gluten.
How can you use Nanoil Almond Oil to enhance your skin, hair and nails?
Fight cellulite with almond oil
Sweet almond oil is one of the best oils for massage. Its excellent consistency and ingredients go along with other natural substances e.g. essential oils. Use almond oil for a massage regularly to get rid of cellulite and firm up skin.
Massage your skin with almond oil
Sweet almond oil isn't designed exclusively for not-so-sweet orange peel skin. It's versatile and you can use it to massage whole body skin, your baby's skin or after a workout. The oil relieves fatigued muscles, adds elasticity to skin and delivers lots of vitamins and other active ingredients.
Make scars less visible with almond oil
Sweet almond oil is also a grand remedy for all kinds of scars and spots, incl. post-acne marks. Regular application reduces visibility of spots, boosts elasticity, evens out skin tone. Rub almond oil into post-surgery, acne, cuts and irritation spots – it will help you do away with them.
Reduce stretch marks with almond oil
Similarly, sweet almond oil will let you banish stretch marks, especially fresh ones that have just appeared. Thanks to gentleness, the oil helps moms and moms-to-be prevent stretch marks and reduce visibility of existing ones.
Enhance your hair with almond oil
It is a miracle-working conditioner for dry, damaged as well as trouble-free hair. Sweet almond oil doesn't only care for hair lengths but also conditions roots and skin on the head. Apply it to your baby's scalp to eliminate cradle cap. Moreover, almond oil makes hair stop falling out in excess, strengthens bulbs and noticeably improves hair condition.
Enhance your face with almond oil
It is a spectacularly-working face serum. Almond oil works wonders when added to face moisturizers. A popular face care product which protects against the sunlight, freezing cold, air-conditioning and pollution. It is recommended for all skin types – relieves dry skin, cures acne, boosts elasticity in aging skin. Mix it with other oils or hyaluronic acid or add to face masks and scrubs. What's more, sweet almond oil helps get rid of heat rash.
Grow lashes & brows with almond oil
Even though castor oil leads when it comes to lash and brow care, sweet almond oil is an effective natural treatment too. Milder version alternative strengthening thinning lashes and brows.
Strengthen your nails with almond oil
It has nourishing effect, strengthens weak brittle nails and moisturizes dry cuticles. Simply rub it in nail plates and the skin around them every day. Thanks to sweet almond oil, nails gain elasticity, look nicer and smoother whereas cuticles are neat and healthy.
Where to buy natural, fine-quality almond oil?
Choose a product that values quality most: pure, organic, almond oil certified by quality label, cold pressed, unrefined, without any unnecessary fragrances. Check oils having the best reviews online and consumers' recommendations. The example of excellence is Nanoil Almond Oil. Why don't you try the product having highest opinions and quality?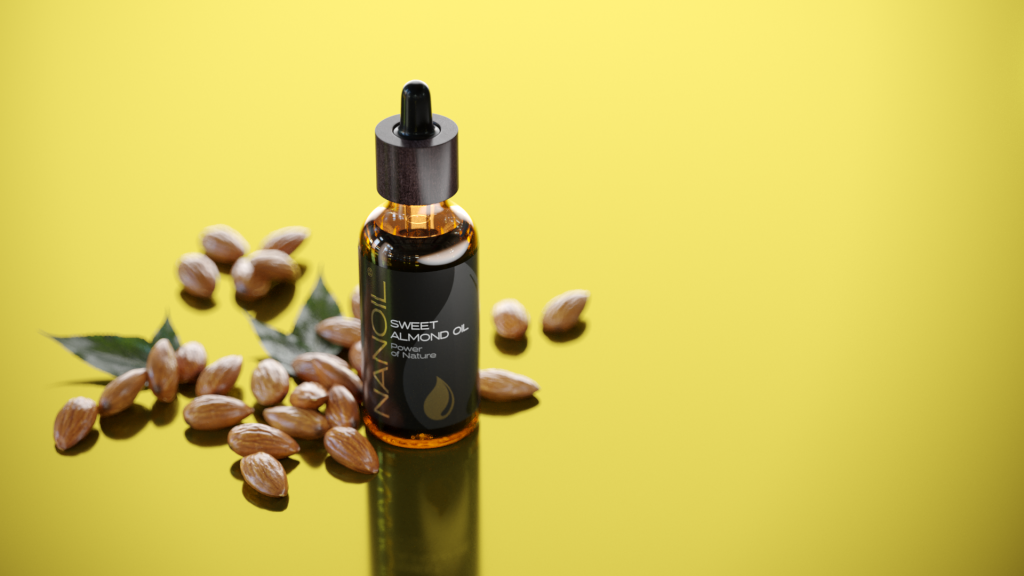 Nanoil Almond Oil in reviews
It gets really good opinions and one of the reasons is its gentleness, working for babies and adults. Perfect for sensitive and allergy-prone skin, ideal as your first beauty oil. Nanoil Almond Oil is top choice for hair, body and nail care; sublime beard and moustache oil as well as treatment for irritated scalp and diaper rash.